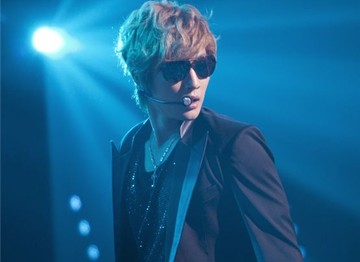 July 15, South Korean singer Kim Hyun Joong (26 years) held a concert at the Saitama Super Arena premium for those who buy second single 'Heat'.
Currently, he is Korean Drama filming in Nikko, Tochigi and organized a concert for the fans as well as guerrillas in various cities in Japan. With a busy schedule, on July 14, at the same place, he took in a concert singer bagia Naoto Inti Raimi (32 years).
Today, in the morning, during training, he was not feeling in the throat and went to the hospital for medical examination. Therefore, the first show was delayed for 1 hour 13 minutes.
Nevertheless, he remained on stage despite the unfavorable conditions, he sang 13 songs including 'Kiss Kiss' and 'Heat'. "Although it started an hour late, thanks for waiting. I really thank you and sorry because I was not in good condition and sorry for not keeping the physical conditions in a professional manner. 'Hyun Joong apologized many times during the conversation.
Traveling back and forth Japan - South Korea, working as an actor and singer, about future plans, "Regarding future plans, I have not discussed with the company. I want to make an album, touring the world" he declared, "I think next year, I wanted to hold a concert in a smaller place than the big stage. "suggests a tour of Japan in the next year.
About 15 thousand fans attended the two events on the day and night. At the end of the show, she sang the song 'If you are like me', 'I want to sing this song a cappella to express my feelings ". Because she had a sore throat, the audience cheered with delight. He touched and rubbed his face with a towel.